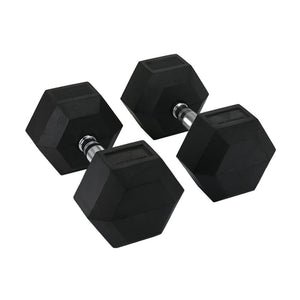 Inventory Reduction Sale - Dumbbells 20% of regular price
---------------------------------------------------------------------
We recently discontinued fixed size dumbbells due to their ever increasing cost, and replaced them with our Loadable Dumbbell sets. 
However... one of our regular suppliers recently offered to sell us a quantity of larger size dumbbells at a great price, so we took their offer, and are passing on the low cost to our customers.  Most retailers sell Hex dumbbells in the $1.50 to $2.50 per pound range, ours are $1.36 per lb. ($1.08 at the current sale price)
Sizes are in KILOS and are limited to the sizes listed, and quantities are limited. 
Prices are for a SINGLE dumbbell.