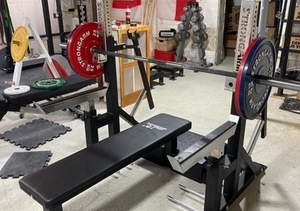 The more you spend, the more you SAVE!  Spend over $1000 and get 5% off.  $2000+ get 10% and $3000+ gets you 15%. 
Complete your purchase at full price and you will be REFUNDED the discount percentage within 24 hrs.  (total of the Home Gym Builder items, pre-tax and shipping) 
--------------------------------------------------------------------------
Looking to build a home gym?  
Start with the basics, a rack, the right bench and bar, and the enough weight to last a while. With just that, and the right program, you'll be well on your way to your fitness and STRENGTH goals. Most champion powerlifters don't use much more. 
1) Pick your rack.   Chose from our simple budget friendly Squat Stands, our R1 Power rack, the best option if you train alone, or our competition style Combo Rack. The Combo is the best option of you train with partners, the lever arms make rack-height changes  super easy.  Also great for low ceilings.  
2) Pick your bench Chose from our super strong flat bench (it's the same bench that comes with the Combo rack) or our versatile Flat/Incline bench.  
3) Pick your bar Chose from our entry level Standard bar, all black with medium aggressive knurl, the Strongarm Powerbar with more aggressive knurl,  great all around bar.  Lastly, the Titex bar is very similar, but super stiff steel, and IPF approved.  
 4) Pick your Plates Chose from our Pounder plates, similar to what you'd seen in any good gym, our our Calibrated kilo plates.  Made to IPF competition specs for accuracy, dimensions and colors, you can't get better at a lower price.