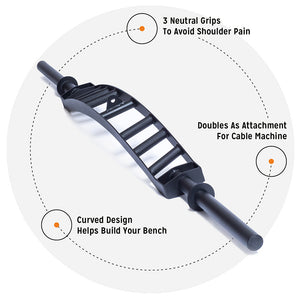 One of the most versatile specialty barbells you can get, the Arch Nemesis is not only a shoulder saver and a bench builder, but it also doubles as a cable attachment. This welded bar has three different angled grips and a hook on the top for easy attachment onto whatever cable machine you have — or even better — pair it with the Bells of Steel Belt Squat Machine.
IMPORTANT: The sleeves on the Arch Nemesis Swiss Bar are made of steel tubing instead of being regular barbell sleeves. This means that the sleeves are a few millimeters smaller than those on a regular barbell — regular 2" collars will not fit tightly without modifications. 
Nemesis bar
Started using the bar to reduce stress on my shoulders. So far so good. Helps reduce the discomfort from arthritis. Very happy with the bar.