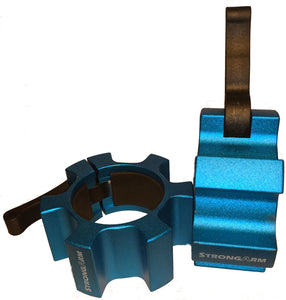 Our own brand of aluminum collars, lightweight, but very strong.  Rubber lined for extra good grip on your bar.
These are sturdy and won't budge
These collars are great, I've loaded them onto my loadable dumbbells and they grip on super tight. Will easily hold 120+lbs on a loadable dumbbell. And these will ensure your plates don't budge when doing reps on with your deadlifts. I think the only thing it's missing are magnets on it so that you can leave them on the rack and will magnetically stick on the plates for less wiggle.
better than spring collars otherwise worst collars I've ever used.
I purchased two sets of these collars hoping they'd be a step up from the OSO knockoffs on Amazon while still being notably cheaper than Rogue american collars. My plan was to upgrade from the cheap ZPARIK Olympic Barbell Clamps I bought on Amazon so that when my loadable dumbbells arrive I don't have to worry about plates falling off doing goblet squats or the like. When these arrived I was immediately disappointed. They don't have enough rubber in them so they have dramatically less hold than the plastic collars I meant to replace (which are actually really awesome particularly for the price). I can slide these collars off the end of my barbell with just my fingers (I have 2 sets and can do this with all 4 collars,) which I cannot do with the plastic collars or with the rogue american collars I ordered a few minutes after I tried these for the first time. The action of the plastic lever isn't smooth. You have to push in just the right way while pulling on it to open the collars. When you want to lock the collars the lever action tightens and then loosens the grip on the bar and doesn't notably latch into place at all, but just sort of wobbles around. of all the collars I've ever used the only type that I did not like more than these is spring collars. I'm still waiting for a reply to my return request.
I'm sorry to hear this William. We've had virtually zero complaints about those collars, everyone has been quite happy with them.
I can't locate any communication from you about returning them, but you are certainly welcome to, but please send them back to our new address, we are in the process of moving.
StrongArm Sport
7880 66 St SE, Bay 114
Calgary, AB
T2C 5V2
Aluminum collars
These collars have been great, they hold a lot of weight and don't slip. I have had 70 lbs on loadable dumbell handles doing hammer curls and weights don't slip. No more worry about weight plates falling on your toes. Thanks Mike for another great product
Aluminum Collars
Excellent quality of the product and it can hold a lot of weight! As usual 5/5.
Great Value "High End" Collars
My main concern with these collars was keeping my iron plates tight during deadlifts. Spring collars allow the weights to move around and over the course of a set get sloppy. These comfortably held the plates together from set to set. The design is nice though I do worry about the notching in the plastic holding up. I would highly recommend these collars if you lift with iron plates.