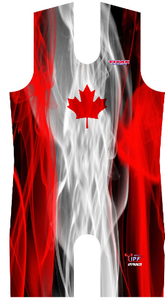 The NEW CANADIAN Features:

High Cut Front and Side Panels
– Offers maximum deltoid and upper chest coverage
– A great complement to low cut bench shirts

Wide Cut Straps for Maximum Trap Coverage
- the same as the Titan Triumph, the sport leader

Elasticated Leg Bands
- for Comfortable yet Secure Leg Coverage

Comprexx Fabric Made in the USA
– Highest grade stretch fabric in the lifting world
– Stretches up to 600% for sure fits
– Helps keep muscles warm
– Provides passive muscle compression
- Unlike sheer lightweight lycra fabrics, our fabric has full body for great coverage, great 2 way stretch for maximum comfort, vibrant colors and a beautiful sheen.

All Titan Singlets Feature:
Non supportive singlet for raw meets. Also an excellent non-supportive suit for benching or for deadlifters who prefer non supportive suits
Cut and manufactured specifically for powerlifting (Not a wrestling singlet)
Features Comprexx© fabric. Comprexx© provides muscle control compression for active athletes. Athletes muscles keep warm and loose enabling high levels of performance.
Full-length leg with a comfortable spandex leg band.

Manufactured by Titan in the USA

Sizing
Small - 114 to 132 lbs
Medium - 132 to 165 lbs
Large - 166 to 197 lbs
Extra Large - 198 - 242 lbs
XX Large - 243 to 275 lbs


Titan Singlets definitely feel better.
Had worn some other singlets before and I found Titan Singlets feel way better than those that I've tried before. Does not have that sheer almost see through feeling and having the new Canada version of the singlet, definitely do feel proud to be wearing it on the platform. I do have the original version of the Canada Singlet as well and these have been improved IMO. Whereas the prior version when stretched seems like you can see the white background of the inside lining giving it the impression it's see through even though it's not.
If you're heading to represent definitely hit up Mike to snag one of these. Even if you're not, this singlet definitely is worthy of any platform.