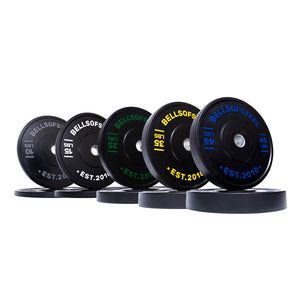 Bumper Plates tough enough for commercial gyms, priced for home gyms.
These commercial grade non-smelly, DB (dead bounce) virgin rubber lb bumper plates have a thick stainless steel inert ring with 3 anchor points to prevent common bumper breakdowns. Ideal for recreational and competitive lifters alike who don't want to break the bank!
The Benefits of Dead Bounce Bumper Plates

Here are the top reasons why these bumper plates belong in your gym.
Low-smell. Most lower-quality bumper plates use old recycled tires which retain much of their stinky rubber smell. Our bumper plates are made from brand-new, high-quality virgin rubber to keep your gym smelling fresh.

Ultra-durable. Our plates are designed to survive being dropped repeatedly. The rubber build is much thicker than just a coating and the hubs are thick stainless steel insert rings with a 3-anchor point system. This design locks in the centre hub, making them durable enough for competitive weightlifting gyms.

Shock-absorbing. Regular metal plates will cause more wear and tear on your equipment and flooring. Our bumper plates will add mileage to your barbell and platform by absorbing some of the impact while reducing noise, too.

Highly accurate. Cheap bumpers can be up to 10% off the claimed weight, causing you to put the wrong weight on the bar. Our bumper plates are accurate to +/- 1% of the claimed weight. No more second-guessing what's on the bar — ever.
Slimmer design. Inferior 45-pound plates are 3.75 inches wide, which can limit your strength by crowding the bar. Our 45-pound plates are no wider than 3.15 inches, letting you comfortably load up to 440 pounds on the bar with room to spare. Never worry about bumper plates limiting your strength gains ever again.

Consistent training. Standard steel plates come in a variety of non-standardized diameters, so if you are doing any exercises pulling from the floor, such as deadlifts, or cleans, unless you have 45lb plates on each side you will be pulling from a deficit. Bumper plates are the same diameter regardless of their weight, so you can keep your training consistent.

Avoid injury. If you hesitate to dump a bad lift because you're afraid of damaging your floor or equipment, you could get seriously hurt. Bumper plates give you peace of mind by taking any worry about damage completely out of the equation. They're also the most frequently used for performing the Olympic Lifts – the snatch, clean and jerk — as well as supplementary movements such as power cleans and jerks.
Priced as pairs.  
Great plates
Looking for bumper plates? These plates bump. Good quality. Good price. Great for oly lifts at home