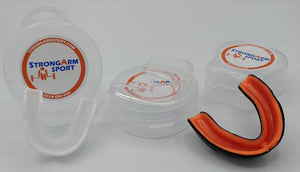 Grinding out that big lift?  You may not realize your teeth are doing some of that grinding as well.  Protect them with a StrongArm Mouth Guard.  
This sport mouth guard is made of 100% food grade EVA material.
In three models: 
White - The Junior model, for smaller size mouths. 
Clear - Regular Senior model, for normal adult size mouths
Orange/Black - Double layer Senior, a tighter fit on the teeth, for real grinders. 
All models can be molded to make a perfect fit.  
Note: due to the nature of this product, all sales are final, no returns or exchanges.