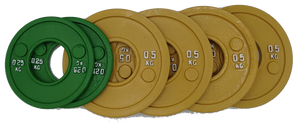 Powerlifting records in most federations can be set by adding just 1/2 a kilo on the existing record.  To do that, you need the "chips" as they are called, small plates that allow you to add any 1/2 kilo increment to the bar, .5, 1kg, 1.5 kg or 2 kg.  
This requires one pair of 250 gram plates, and two pairs of 500 gram plates. This set includes that.  
Perfect addition to StrongArm plate sets
Been wanting to get a set of fractionals and these were the perfect fit. My friend who trains with me has difficulties making 2.5kg jumps on bench. With these, she was able to hit PR's and gain confidence on benchpress.