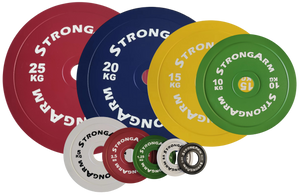 Note: These plates are now approved for use in CPU meets of any level. 
On SALE, 15% off regular price (reduced at checkout)
----------------------------------------------------
3 Years ago we dropped a plate manufacturer, their product was great, but they were extremely slow to fill our orders. The factory we went to was much quicker, but didn't have the same refined look and finish as the previous. So we're changing again, to plates of the same standard as our chrome version plates.  Appearance is much like the first plates, very sleek. The first load is due sometime in September. 
Any orders placed here will be Pre-Orders for that shipment.  
--------------------------------------------------
Powerlifting contests are always done using the metric size plates, yet most commercial gyms use "pound" plates that are usually low quality, meaning inaccurate weights. When you are training for a contest, you want to know that your training weights are EXACTLY what you want them to be, not plus or minus.... anything!

StrongArm plates are not on the IPF approved list (not yet at least), but only because we did not want to pay the enormous fees the IPF wants for this. They ARE made to IPF specifications for calibrated weight, dimensions and colors. So while you cannot use them for competition in CPU contests, they are perfectly acceptable in the warmup room at CPU meets, or in other feds, and home or commercial gyms. You can be assured they are every bit as precise and accurate as the plates you will see on the contest platform. You are just paying considerably less for them!
SHIPPING

Our online system is not the most sophisticated, and almost always over prices the shipping. Please use our Contact page to enquire about shipping. Include your full address, and how much weight you need.
USA customers:  Please visit our US site for USD pricing, including shipping. Go to:  strongarmsport.us 
Our plates are warehoused in Calgary, local customers can pick up and avoid all shipping charges.
Note: Record plates that are shown in the photos are NOT included in sets, but are available here.